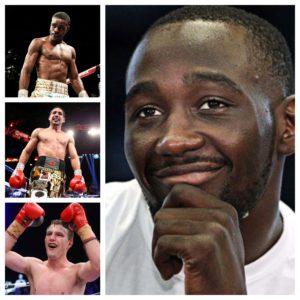 Terence "Bud" Crawford made history August 19 by unifying all the belts in the 140 pound division, so now he wants to move on to another big challenge. Moving up to Welterweight and taking on the best the division as to offer. I have no doubt he is a shoe in for best pound for pound fighter in the world and he definitely possesses the gift to overcome any challenge. But the Welterweight division is full of physically bigger stronger fighters, but I personally think Crawford's skills are above most in this division. The biggest fight in the division right that can be made is Keith Thurman vs. Errol Spence and this is a fight I feel the division needs so in the meantime Crawford can build his stock while these two make the fight everyone wants. These are handful of guys I feel can put Crawford's on everyone's radar.
Mikey Garcia – Okay this one isn't a fight I want to see at 147 but at 140 for name purposes. I think 140 suits Garcia best at the moment and since Crawford hasn't officially moved into 147 he could take this fight to build up his name. Right now Crawford has the competition on his resume, regardless of what fans say, but he just needs some names. With Mikey coming off the Adrien Broner win, this would be perfect timing for both guys. With Mikey bringing the basic skill and determination, and Crawford bringing the IQ and underrated power we got a good match up.
Jeff Horn – There's been some talk of this fight as a pre-unification bout while Thurman and Spence battle it out, and I personally like it. I know Horn was given a gift decision against Manny Pacquiao and before that we didn't know who he was and now everyone is knocking at his door. So with Horn riding high off the Manny win, this would be a good match to help showcase Crawford's skill at 147 against a young strong game fighter. Crawford would also be in there with a man who beat "the man." With both fighters being Top Rank, and Crawford & Horn's ESPN fights pulling in high numbers, there's no reason this one shouldn't happen.
Danny Garcia – Danny recently had some words for Terence Crawford, questioning his resume and his position as one of the top fighters today. Of course Bud is the guy who not only took all the belts at 140, but he is now moving up to 147 and is seeking the Thurman's AND the Spence's. Keep in mind Spence is a guy that a lot of these welterweights are not looking for, yet Bud is. Since Danny doesn't want it with Spence, Porter, and a Thurman rematch isn't the cards right now, why not take on the guy that has this "questionable" resume? If Crawford is not on the level take the fight with him and send him packing back to 140. This fight is a money maker for both guys. I think there styles compliment each other and the size match up is on the level. Danny's power, consistency, and underrated skill against Crawford's power, ability to adapt, and killer instinct.
These are just some of the fights that I think Bud Crawford could take until Spence and Thurman are free. Of course there are the Porters, Jessie Vargas', and even a Sam Eggington, but Terence is a guy that wants the best and the fights that make sense. You can't do anything but take your hat off to a guy that brings not only skill and power to the table, but the will and instinct to shut all other competition down.